June 6, 2008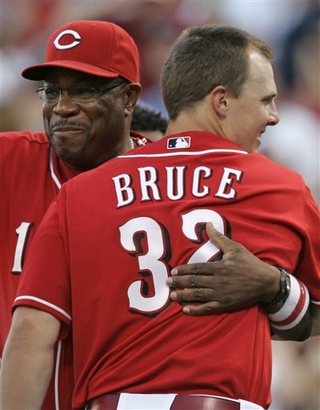 I've been out of the loop for a week, so I might be the last one to have read this touching story. It's about Jay Bruce and his relationship with his sister Kellan, who was born with her umbilical cord wrapped around her neck, leaving her delayed.
Yet, if you ask Bruce, he'll say what he's done pales to the week's accomplishments of his 26-year-old sister, who was born with her umbilical cord wrapped twice around her neck. Although that left her with some mental challenges, she is unequalled in the human lessons she is able to impart.

….

"Kellan has always been afraid to fly — and she's been deathly afraid of escalators, too — but she did both when we came up here for the game," said the eldest of three Bruce children, 31-year-old Amy Gore.

"We flew from Houston to Atlanta, rode the people mover at the airport there, and then caught a flight into Dayton. Once we drove to our hotel, Kellan rode another escalator.

"So when we finally got to the ballpark and saw Jay, the first thing she told him was how she flew on a plane and rode an escalator. That was her home run. It was like she conquered Mount Everest.
OK, they lose a few points for schmaltz and overuse of paragraph breaks, but it's obviously really a big deal for the family. Now let's bring it on home with a quote from someone who knows nothing about it:
Although he doesn't know anything about the relationship between Bruce and his sister, Reds veteran relief pitcher Kent Mercker talked about that appreciation the rookie shows:
"It's amazing to watch what he's doing. Obviously, physically he's got everything he needs, but the thing that matters most is how guys react when they first get up here.

"Some try to play too hard and do more than they're capable of. Others think they have it figured out before they get here. They think they belonged here long before this, and there's a sense (of entitlement.)

"But he seems to appreciate this. He's got a real understanding."
That's nice to hear, in contrast to that Homer Bailey character.
Bruce — who often calls his sister and tells her he loves her — quietly tried to explain some of this Sunday: "She didn't get the chances in life I was blessed with and yet she enjoys everything — riding her bike, listening to music, everything. She puts everything in perspective and helps me not take anything for granted."