July 31, 2008
UPDATE Griffey has given the OK; he's going to Chicago. This is so exciting! I hope the White Sox go far.
According to the story on Reds.com:
The Reds will receive right-handed pitcher Nick Masset and second baseman Danny Richar, a source said.

Griffey, 38, is a likely free agent after the season. In the final year of a nine-year deal, the Reds held a $16.5 million club option for 2009, with a $4 million buyout.
---
The trade that's been in the works since 2005 but seemed like it would never come may finally be here: FOX Sports (and even the MLB.com pages concur) reports that the Reds and White Sox have come to an agreement to send Ken Griffey Jr. to the windy city, if the slugger agrees to go.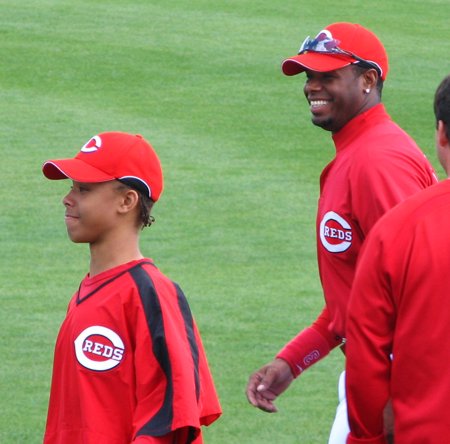 Ken Rosenthal says:
The White Sox, leading the American League Central by a game and a half, would use Griffey mostly in the outfield, the source said. However, they do not have an obvious spot for him unless they make another deal.

The Sox are set at the corners with Carlos Quentin in left and Jermaine Dye in right. They could play Nick Swisher at first to open center for Griffey, a move that would reduce the playing time of first baseman Paul Konerko and designated hitter Jim Thome. But Griffey has not played center regularly since 2006.

Griffey, earning $12.5 million this season in the final year of his contract, is owed more than $4 million in salary. The Reds could pay a portion of that sum to acquire better players in the deal. The White Sox also could be seeking to acquire one of the Reds' available relievers, right-hander David Weathers or lefty Jeremy Affeldt.
No word yet on what the Reds would get in return.