July 28, 2010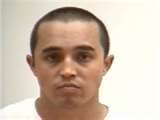 Daniel Ray Herrera, the diminutive left handed reliever that the Reds have on assignment down in AAA Louisville right now, was arrested last night for public intoxication. From WLKY.com:
Police said Herrera, 25, was walking along northbound US 31 when he was stopped by Indiana State Police at 4:18 a.m.

ISP arrested Herrera and charged him with public intoxication. When he arrived at the Clark County Jail, his blood alcohol level tested at 0.228.

Herrera is due to be released from the Clark County Jail at 7:30 p.m. Wednesday.
It's been a while since anyone in the Cincinnati has been in trouble with the law. Didn't used to be that way. I remember Brian Shackelford's arrest on a Milwaukee road trip, and of course, Ryan Freel gave us not one, but two mug shots. Comparatively, wandering up the highway in the wee morning hours seems only LaRussa-esque.