April 16, 2011
It's 2011 Reds Team Baseball Card Set day (presented by Thompson Plumbing, Heating and Cooling), for all your Reds commemorating enjoyment.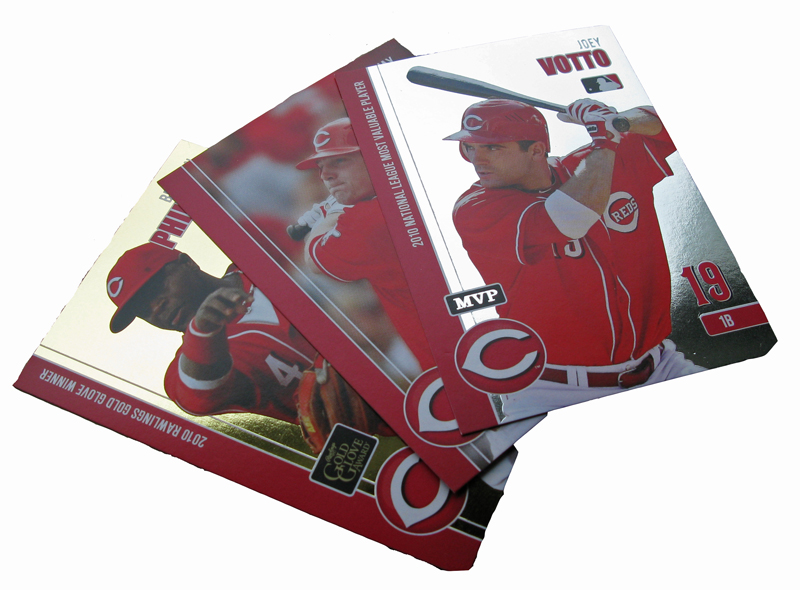 You can add them to your pristine collection of unopened team cards sets, or, if your family is more like mine, you can find them all around the house after they are incorporated into your son's imaginary game where the Paul Janish card teams up with the Drew Stubbs card to defeat the diabolical Bakugan on the Lego train.
If you closely at this picture, you'll notice that they're lying down like that to show off the shiny foil background. There are four of these super-special cards in the pack: three gold ones for the gold-glovers and one silver one for the MVP.
Why does a gold glove get you a gold card while the MVP only gets you silver? Probably because "gold" is in the name of the "gold glove" and so it would be weird the other way. If it helps, you can think of the silver as representing diamond. And not the lab-created ones; the ones people die for. Or platinum. Platinum is probably better.
Either way, it's much easier to get the cards than any of those other precious materials. Just be one of the first 30,000 through the door to see the Reds take on the Pirates and get yours. Edinson Volquez is supposed to be back in action.