July 15, 2011
| Team | 1 | 2 | 3 | 4 | 5 | 6 | 7 | 8 | 9 | R | H | E |
| --- | --- | --- | --- | --- | --- | --- | --- | --- | --- | --- | --- | --- |
| Cardinals (49-44) | 0 | 0 | 0 | 0 | 0 | 0 | 3 | 2 | 0 | 5 | 7 | 1 |
| Reds (46-47) | 1 | 0 | 0 | 0 | 1 | 0 | 2 | 0 | 2 | 6 | 11 | 2 |
W: Ondrusek (4-3) L: Salas (5-3)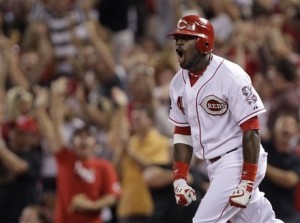 That was an awesome way to end a baseball game against the St. Louis Cardinals.
The Cincinnati Reds first baseball game after the All Star break started well. Johnny Cueto was cruising and mowing down the Cardinals. Even with some shaky defense behind him, he emerged with 7 innings of 3-run ball, 2 of them earned. He left with the lead, but the bullpen failed again.
This is where the game took a turn for the ugly. Aroldis Chapman entered the game and was unable to record an out. Two runs ended up scoring in the 8th before Nick Massett was able to finish the inning.
The Reds had lots of scoring opportunities, but were never able to break the game open. They continued to fail to achieve that 2-out hit.
Until the 9th. Down by 1 run, Zach Cozart got a one-out single. It was his third hit of the game and set the stage for Joey Votto to do something great. Sadly, his best pitch was a line drive straight into the right fielder's glove.
But that was okay. The next batter was Brandon Phillips, who took a big swing and sent a ball into the seats in left field. The Reds had won their first game in what felt like an age. I mean, the Harry Potter movie series finished since the last time the Reds won.
The win moves the Reds to 3 games back of first and 1 game under .500. The Cardinals losing drops them into a tie for first with the Pittsburgh Pirates. (That was a weird thing to type. The Pirates in first place after the All Star break? What a strange season this is shaping up to be.)