February 19, 2012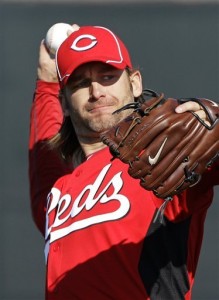 The long dark tea-time of the soul is finally over: baseball is back as pitchers and catchers reported to Cincinnati Reds Spring Training camp today.
Expect lots of artsy-fartsy photos of baseballs and players working out from odd angles for the next week or so. Oh, and the perennial players looking and feeling in the best shape of their lives.
It's a tale as old as time, and despite the cliche of it, I'm happy to have it back.
The first player feeling healthier than ever report came today concerning one Bronson Arroyo.
"The ball feels better coming out of my hand in long toss," he said. "Off the mound, it's a little harder to tell. But as far as long toss, I'm definitely feeling better. This is as healthy as I've been in a long time. My arm's always been healthy. But my back's been banged up for years. I think that's affected flexibility.

"I'm as healthy and flexible as I've been in a lot of years."
After Arroyo's worst professional year last year–10.3 hits per 9 innings, 2.1 home runs per nine innings, and an ERA+ of 77 (100 is average)–he better be in great shape, or he's not going to last in the rotation for very long. I don't care how much his salary is, I bet the team will have him on a short leash, considering their all-in moves this off-season.
Arroyo has always had a slower-than-average fastball, but last year it fell from around 90 to the mid-80s. He's hoping that his preparation will improve his speed.
"I've got nothing else to give it. I gave myself this entire offseason to try to rejuvenate some of that zip. If it's not there, it's not going to be there. Between now and mid-spring, I should be able to see — by the time I throw three, four innings."
I hope it is there, otherwise this all-in season could quickly become a bust.