Last game
Can I just write *shakes head* here and be done with it?
The Reds were swept yesterday by the Pittsburgh Pirates. Friday they got a shaky start from Mike Leake, which maybe isn't so surprising after all. Saturday they lost Johnny Cueto to what is still a mystery injury.
Yesterday it was another of those hit-the-wall kinds of games. Mat Latos was rocking a shut-out when he entered the seventh inning. Then Michael McKenry knocked a solo shot over the wall to lead off the inning. Two outs and two baserunners and another run later, Latos is out and it's up to Logan Ondrusek. Ondrusek, though, couldn't get out of the inning and his inherited runner to score, plus added one of his own. Not to worry! Manny Parra took over to allow the second generation of inherited runners to score.
And that was the prettier of the two innings. Jonathan Broxton…*shakes head*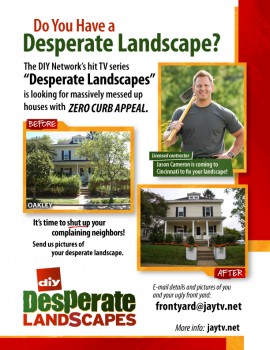 The Reds have lost 5 in a row and have been outscored 14-34. Final score yesterday: 7-10. But don't worry: I'm sure things will get easier when…
Next game
…The Reds return home to host the Phillies tonight. Bronson Arroyo (RHP, 1-1, 5.25 ERA) defends against some guy you've never heard of called Cliff Lee (LHP, 2-0, 1.08 ERA). First pitch at 7:10 p.m.
Extreme Yard Makeover
About now, it's not looking like a big Reds banner in your front yard is enough to give it curb appeal. So, you might be interested in applying to be on a home make-over show on the DIY Network. I got an email from a producer of the show who says, "we've shot dozens of shows in Cincinnati and we're planning to shoot more this summer if we can find enough homeowners. We'd love to feature a diehard Reds fan."
If you are in the Cincinnati area and have serious yard issues, like broken concrete, a disintegrating porch, or horrible landscaping, your yard transformation can be televised. Go to www.jaytv.net and click on Desperate Landscapes to apply. You can read more about the show on DIY Network's website.
What to say to sound smart at the water cooler
Before yesterday, the Pirates hadn't swept the Reds in a 3-game series since April 2010.