May 13, 2006
On Tuesday I made the trek out to Cincinnati to attend Baseball 101: Luncheon for Ladies, so this week I thought I'd use the podcast to share some audio from that event.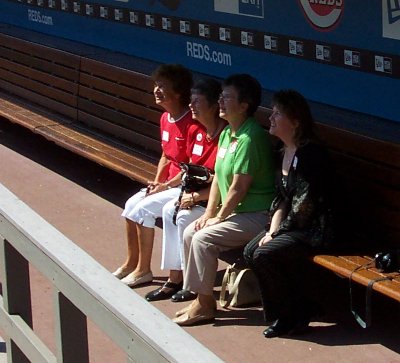 It was quite a haul out to Cincy; about two and a half hours, so to get there at 11 with room to recover from the wrong turns I invariably make, I had to be out the door at 8:30. It takes about an hour to get ready, so even though I took Tuesday off work, I absolutely did not get to sleep in satisfactorily.
I had my baseball CDs in the car and enjoyed the stylings of Oh Say Can You Sing? and Finding My Way. In case you didn't already realize the level of my geekitude.
Mulling about with the crowd outside the Diamond Club entrance before the doors opened at 11, it was impossible not to notice how out-of-place I was. First of all, most of the women seemed to be there in groups. Second of all, most of the women seemed to be retired. Experience tells me that the retirement-age women-in-groups crowd can be extremely passionate about their sports, but perhaps next year we can get a bit of a youth movement going to balance it out a little.
Episode 12: Baseball 101. (26.7 MB, 38:56)
Podcast: Play in new window | Download