May 18, 2006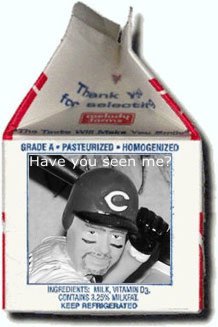 For those of you just joining us…
Last Sunday, Tiny Casey was kidnapped. The kidnapper remains at large, and our tiny little plastic buddy remains missing.
Jacci identified JD, Shawn, Blade, Doc Scott, and me as her suspects.
Someone's story must not hold up, because Casey is gone.
Furthermore, the kidnapper sent clues to T.C.'s whereabouts:
I'm really worried. You have to help Jacci find Tiny Casey. The first person to locate him and identify his kidnapper will receive a full prize package from yours truly, including an autographed copy of Covering the Bases, several matchbooks, and an autographed copy of the increasingly collectible book Funnyball.