November 27, 2006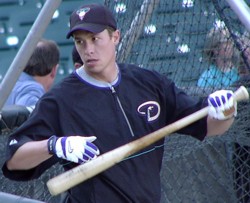 No, really. I read it on Marc's blog:
Lo and behold, the Reds have signed veteran backstop Chad Moeller, who spent last year in the Brewers organization, to a one-year contract. Not sure what this means in the grand scheme just yet, as Moeller appeared in just 31 big-league games last year, but I'm sure it's all part of the master plan.
Marc asks Kriv-dawg to explain:
"You need depth," said Krivsky. "You need a team. You need guys with roles. You just can't go with two catchers – you'd better have depth there. If someone gets hurt, a foul tip, you're out there scrambling. You'd better have some depth at that position. That's what we're doing here."

And Moeller's .184 average in 29 games with the Brewers last year?

"He's better than that," said Krivsky.
Now, before you get all excited, I should point out that "you just can't go with two catchers" IS actually an appropriate sentiment in some cases. For example, if a person were to walk up to you and ask, "What's the absolute minimum number of baseball players needed to form a proper human pyramid?" or "I don't want company, I want a crowd. What do I need?"