January 29, 2007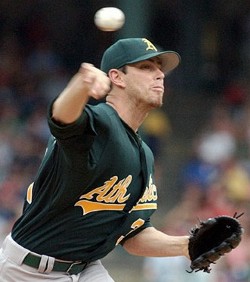 Kirk Saarloos came to the Reds on January 23, 2007 from the Oakland A's in exchange for one RHP David Shafer. Saarloos is also a right-handed pitcher, but one that figures to be in the running for the fifth spot in the Reds' rotation during the 2007 spring training.
We haven't seen anything out of Saarloos yet to know what he's got to offer, but I understand he's a ground ball pitcher, so even if he doesn't make the rotation, he may have something to contribute out of the bullpen. I understand he bounced back and forth for the A's.
Saarloos was quite the college pitcher, leading Cal State Fullerton to a College World Series appearance in 2001; he went 15-2 with a 2.18 ERA in 25 games (18 starts) that season. But his claim to fame is 1 1/3 innings of work in 2003 when he was one of six Astros pitchers to combine for a no-hitter in Yankee Stadium.
Here's what HMZ, aka The Crack Hard Facts Staff, has to say about Saarloos:
Fast Tidbit from the CHFS on our new pitcher, along with a spelling mnemonic of sorts for our lovely and talented hostess, RHM: Saarloos (rhymes with Carlos…and Vanna must be getting desperate because vowels are two for the price of one this week) was one of the six Astros pitchers who combined to no-hit the Yankees in The House That Ruth Built on June 11, 2003. The other five were Roy Oswalt, Pete Munro, Brad Lidge, Octavio Dotel, and Billy Wagner.Saarloos throws a 4-seam fastball, a curve, a slider, and a change, but his best pitch is his sinker, which I'm told is generally mid-to-high 80's on the radar gun.

So the Reds may have their fifth starter for 2007, and the A's may have their closer for 2010. The teams also swapped PTBNLs. Good. I always find it interesting to keep track of who owes who a player.

Idle Speculation Department (Saarloos Division): Someone in ASBCR suggested that maybe Kriv-Dawg just got his closer. I balked at that notion initially because Saarloos' ratio of strikeouts to innings pitched was third to last in all of MLB in 2005. Since then, though, I've done some more research and discovered that as a sophomore and junior at Cal State Fullerton, Saarloos was one of the best closers in college baseball. He became a starter as a senior, and Chad Cordero took over as the closer. Cordero, of course, is now Bowden's closer in Washington.

So yeah, maybe Wayne did just slip his closer in under everybody's noses.