January 7, 2007
The Reds were up-and-down in the month of August. Overall, their play was sub-par, but the play of everyone else in the division was even subber-par, so they kept floating near the top of the division and always contending for the wild card. For me personally, August was a pretty rotten month.
August
The month began with a family emergency that had Joel filling in a primary blogger for a couple games. I'd been trying to convince him to write for RHM for the longest time, but apparently he didn't love it enough to stay. Maybe someday…
On August 7, the Reds put Gary Majewski on the DL with shoulder inflammation. That sort-of explained why he'd pitched so poorly since he'd joined the team, but didn't explain why Krivsky had traded for him in the first place. We would later learn that Kriv-dawg hadn't known that Majewski was damaged goods, and this off-season, the team was supposed to file a grievance with MLB over the matter.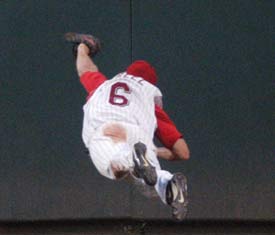 Ryan Freel went on a tear in August, including making the most amazing outfield catch of the season. This catch not only robbed Albert Pujols of an extra-base hit, but also gave Freel the opportunity to tell the world about the midget in his head named Farney.
Bronson Arroyo hit rock-bottom in August. After being the first Reds pitcher to nine wins, it took eleven failed attempts before he got win number 10. He even got the cornrows back, but nothing worked. The whole adventure would inspire some fake news about a pretend new album.
This was the month the Reds announce that Steve Stewart would not return to the broadcast booth the next season. The Reds tinker with their broadcasters more than they tinker with their line-up. I'm not convinced that either is better for all the tinkering.
In RHM news, I thought it would be funny to poke fun at the outrageous success of the game threads at Red Reporter. Some people got that the smack talk was affectionate, but not all. The whole thing just made things weird between JD and me for the longest time. A valuable lesson to keep the smack talking to other teams, I reckon.
The Reds' record for August was 12-17, allowing them to end the month at 67-67 with a six-game losing streak. Being at .500 at the end of August would usually be great for the Reds, but the season was starting to feel like it was slipping away.