January 30, 2007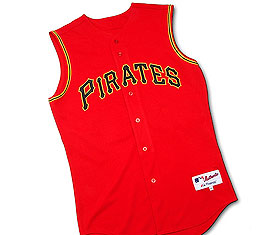 As if you didn't already have enough reasons to be glad not to be a Pirates fan, this is apparently their new alternate home jersey design.
Says Pat of WHYGAS? has this to say:
Bright red vest, black lettering, black sleeves, gold trim, and bringing back the black cap with the red bill. Calling it "ugly as sin" would be offensive to sin.
Meanwhile, I'm concerned that this is just too much suffering for baseball fans in the greater Pittsburgh area and karma is bound to come around if we don't do something drastically nice for them. Quick! Let's send them Sean Casey!