March 2, 2008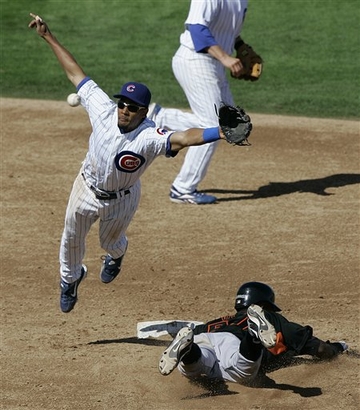 What other team but the Cubs could drop the kind of money they've dropped this off-season and still not be considered a shoe-in to win the division? Money's not everything, I know, but I think that demonstrates an impressive faith from the general public in the ability of the Cubs to come in second.
Cubnut at The Cub Reporter opened my eyes to a story from the Chicago Tribune that quotes Jason Marquis saying he wants to be traded if the Cubs won't let him start:
"I love Chicago. I definitely want to stay here…But I also signed as a starter…I love (Chicago), I love the fans, I love the stadium. I also have a family to worry about, too. I think I can take my services elsewhere…and help another team, in that capacity as a starter."
He's right, you know. We've got to think of the children.
Al at Bleed Cubbie Blue is looking beyond the Cubs' third spring training loss in a row to get at the real lessons of the game. Among them: Sam Fuld, NLC's Hottest Baller candidate, is not starting off the season as well as he ended last season. This probably doesn't disappoint anyone as much as me, since I might have been the only one to vote for him.
The top post at The View From The Bleachers is a diary from Harry, cross-posted from another blog. It's a close view at today's game. If you'd like to feel like you were there, give it a read.
Finally, over at Goat Riders of the Apocalypse, Kurt reports that Alfonso Soriano's broken middle finger on his throwing hand is taking him out of commission for only five days. How in the hell is he going to heal a broken finger in five days?? I guess his legs are all that really matter.