March 30, 2008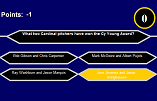 Opening Day is here, and I know you don't feel like concentrating on work. It's time to get out the fun!
This awesome Who Wants to be a Millionaire-style quiz tests your knowledge of NLC teams: current trivia, history, and Red Hot Mama lore. Well, I think it's awesome. Whether you do is about to be seen, I reckon. I bet you will. After all, it's not work.
Thanks to the Crack Technical Staff for making this quiz work. Now go play!
Who Wants to Be an NLC Expert?
(Game modified from a Flash template provided at Flash Kit.)
Get the latest version of Flash here.