March 19, 2008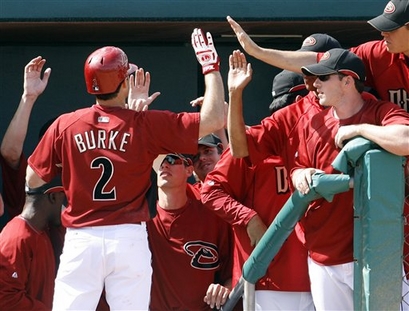 Lisa Gray at The Astros Dugout took a look today at the spring training performance of some recent, but no-longer Astros in comparison to the guys who replaced them:
– Chad Qualls (D-bax) – 5 IP, no homers, 3 hits, no walks, 5 K in 5 games. Good thing we got rid of THAT good for nothing. Our NEW bullpen guys are SOOOOOOO much better.

– Chris Burke (D-bax) – 15/38 in 14 G – 11 RS, 15 H, 5 doubles, 3 HR, 9 RBI, 4 BB, 2 K, 2 SB, no CS: .395/.489/.763/1.252 – yeah, GOOD thing we got rid of that worthless good for nothing in favor of Kaz Matsui. Oh yeah, of COURSE these numbers are perfectly valid – didn't we all decide by 20 ABs last year that Burkie-poo was washed up, useless, worthless? That he should be DFAd and Pence installed in center? Oh yes, you did.
The list goes on. You'll want to click over there to read the whole thing. I mention Chris Burke there specifically because that's him in the picture. It looks like Astros red, but if you look carefully you can see that it's actually the crimson of the Diamondbacks. If you're bothering to look that high.