March 18, 2008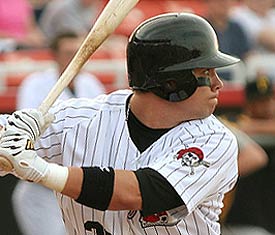 The comparisons between newest Pirates GM Neal Huntington and not dearly departed former GM David Littlefield are flying with the recent demotion of Steve Pearce.
Pearce may not be the best prospect in the world, but he is 25 and has little to nothing to prove in Indianapolis.
Because of that, it's easy to connect the two GMs, since basically, it's the Pirates choosing a mediocre veteran over the higher potential of an unknown prospect. It's been the Pirates' motus operandi for so long.
Pat at WHYGAVS expresses his displeasure very clearly.
To put things simply, the next Pittsburgh Pirate team that plays meaningful baseball after the All-Star break almost certainly won't have Xavier Nady on it, but it might have Steve Pearce. Because of that, there's no reason to play Nady over Pearce, whether there's a buyer for Nady or not.