March 28, 2008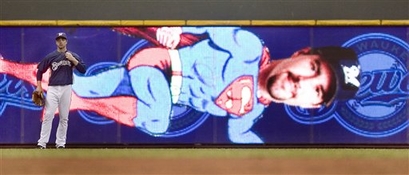 Opening Day is nearly here. Or technically I guess it's already done, since it apparently happened on the other side of the world when I was getting ready to drive to work. What the hell is wrong with Bud Selig?
But the real Opening Day is nearly here, and after following these teams for a spring, it's difficult to predict who will be the worst in the coming year.
I mean, there's the perennial winner, the Cardinals, who are just awful. They're counting on Rick Ankiel and Chris Duncan for all their offense other than Albert Pujols, and their rotation is empty without the great Chris Carpenter to anchor them. But on the other hand, Ankiel and Duncan do have some potential and they have rid themselves of David Eckstein.
They don't look so bad when you look at the Astros. The Astros, not content with the worst farm system in the league, have completely dismantled their major league pitching organization to bring in the likes of Miguel Tejada and Kaz Matsui. Then again, they're just starting this push for homers.
The Reds have been going down this ill-fated path for years. That won't be a problem this year. The Reds promised to search the corners of the earth for just the right manager, and then hired the first guy who walked through the door. A guy who prefers lead-off hitters who get out more. A guy with a history of running young pitchers into the ground. A guy who really understands that black and Hispanic players are better than white players in day games.
But at least the Reds have some talent. How about those Pirates? There's a team that wouldn't know how to sign a number one draft pick even if they could manage to perform enough below mediocre to get one. And talk about a history of losing: 2008 is going to be consecutive losing season number 16 for this franchise.
Of course, no one can outdo the Cubs for losing. Losing their minds to blow all that money on Kosuke Fukudome, leaving them with no choice but to include Jason Marquis in the rotation. At least Ryan Dempster didn't make it. Oh wait.
Which brings us to those Brewers.
Well, they're pretty OK actually. I mean, they're no Big Red Machine, but at least their fans don't sit in such a constantly deranged state that they think just now cutting Mike Stanton heralds good things for the team.
So, yeah, I'll go with them.