March 31, 2008
| Team | 1 | 2 | 3 | 4 | 5 | 6 | 7 | 8 | 9 | R | H | E |
| --- | --- | --- | --- | --- | --- | --- | --- | --- | --- | --- | --- | --- |
| Diamondbacks | 1 | 0 | 2 | 0 | 0 | 0 | 1 | 0 | 0 | 4 | 5 | 0 |
| Reds | 0 | 0 | 0 | 2 | 0 | 0 | 0 | 0 | 0 | 2 | 3 | 1 |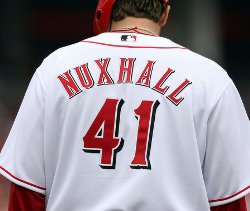 Ah, baseball! How I've missed thee. Thy glorious green fields. Thy majestic stadiums. Thy–eh, enough of that. Let's have some fun with a game wrap!
Here is a verbatim transcript of the Reds' lone scoring effort in their loss to the Diamondbacks to start the 2008 season today.
RHM: Gameday has stopped responding; it's stuck on Griffey.
CTS: Well, Griffey pissed Dusty off by walking.
CTS: And then, in a surprising turn of events, that clog of the bases resulted in a run somehow when Phillips tripled.
RHM: This is exactly what the game wrap should say.
CTS: It gets better.
CTS: Phillips is clogging up third. But somehow, he scores when Dunn grounds out to short.
CTS: Now EdE's clogging up first. There are 2 outs and Javy's up.
CTS: Ah, and Javy ended the inning.
CTS: Strange. 2 runs scored without a single solo homerun.
RHM: Amazing.
RHM: Something just doesn't add up there.
There wasn't a whole lot of other action for the Reds outside of the 4th when the above happened. An Encarnacion error and a Harang wild pitch got the Diamondbacks on the board first, giving them a lead they never relinquished. Of course, the two solo home runs that Harang allowed in the 3rd didn't help the Reds comeback efforts any.
Still, a solid performance from Harang. I'll expect him to do better as the season wears on, but he's definitely gotten better at dealing with the unusual sold-out stadium and the opening day pressures. I'd like to see him overtake Mario Soto's record for thenumber of consecutive opening day starts. I think he's halfway there.
The game didn't feel quite right, though. It wasn't until it was over and I was reading about the Cubs-Brewers game that I realized what it was: the Carlos Zambrano meltdownâ"¢. It just isn't opening day in Cincinnati without the Big Z throwing a hissy fit on the mound.
The loss puts the Reds in last place in the Central, a game behind the Brewers. The Reds and the Diamondbacks take a much needed day off before game two of the series on Wednesday, when Bronson Arroyo starts against Dan Haren.