August 28, 2008
| Team | 1 | 2 | 3 | 4 | 5 | 6 | 7 | 8 | 9 | R | H | E |
| --- | --- | --- | --- | --- | --- | --- | --- | --- | --- | --- | --- | --- |
| Bats | 0 | 3 | 1 | 2 | 1 | 0 | 0 | 0 | 0 | 7 | 11 | 0 |
| Indians | 0 | 0 | 0 | 0 | 2 | 2 | 1 | 0 | 0 | 5 | 12 | 0 |
W: Livingston (4-3) L: McCutchen (6-9) S: Adkins (28)
Yesterday, RHM and I realized that the Indianapolis Indians season was nearly complete and that we hadn't used all our ticket vouchers from the flex package we'd purchased. After consulting the schedule, we saw the Indians were beginning their final homestand of the year, and it was against the Louisville Bats.
So the plan was hatched to attend all of the final home games, or at least the beginning portion of them. I never understood why people left games early. Having attended a game with a 2nd-grader on a school night, I'm beginning to understand.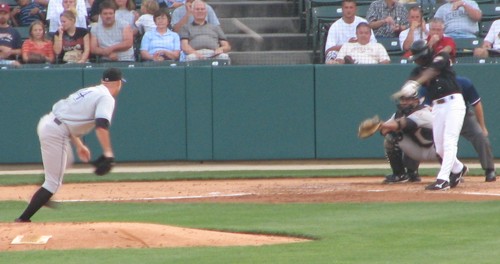 Once, and perhaps future, Redleg Bobby Livingston started for the Bats. Livingston was shaky early, walking a guy on 4 straight pitches in the 1st, before settling down for a bit. Apparently, as we were leaving in the bottom of the 5th, things derailed a bit for him. He still got the win, though.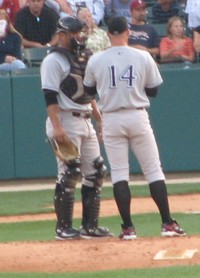 Look! a meeting on the mound! He looks ready for the Show already.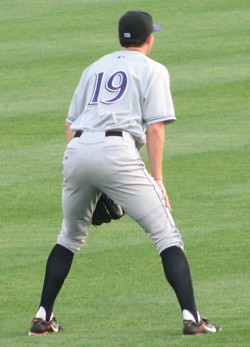 The Bats apparently thought it was an episode of the Simpsons, playing bombardment with the Indians and launching 4 home runs. Drew Stubbs didn't have any of them, but he was closest to our lawn seats. He just might be the Reds center-fielder of the future.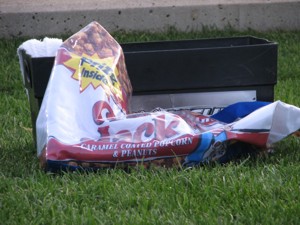 At one point, a beer vendor visited the berm seating area. I was surprised when he simply plopped down his wares and walked around. I must admit, I was tempted. Not to steal anything. Don't be ridiculous. No, I was tempted to pick it up and try my hand at selling stuff.