August 5, 2008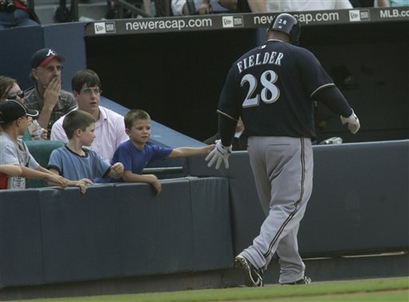 At 5'11", 270 lbs, and 24 years old, Milwaukee Brewers' first baseman Prince Fielder has a basal metabolic rate (BMR) of 2486.6 calories per day. That means that he needs almost 2500 calories per day just to maintain his weight after the effort of using his lungs for breathing, heart of circulating, and other metabolic processes.
To add in the fact that he's a professional athlete and presumably very active most days of the week, you multiple his BMR by 1.725, according to the Harris Benedict Equation to determine the calories he needs to maintain his weight given his lifestyle. That brings his total 4289.385.
To put this in perspective, a cup of fresh, raw spinach contains 7 calories. A tomato has about 40. A serving of tofu has about 100 calories. Even an avocado, the unsaturated fattiest of the veggies, has only about 300, and you have to eat the whole thing.
None of that may seem relevant, until you think about how, after reading the book Skinny Bitch in the off season, Prince Fielder became a vegetarian. And it would take over 14 avocados, 10 blocks of tofu, 100 tomatoes, or 613 cups of fresh spinach per day to keep that guy at high fighting weight.
Hope no one else wanted to hit the salad bar.