August 1, 2008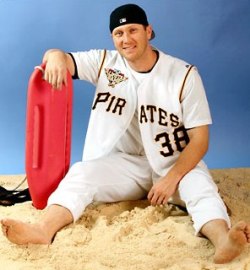 In the other blockbuster trade yesterday, the Pirates had some fun in a ménage à  trois with the Red Sox and the Dodgers. For the first time in a very long time, I don't even think they'll be sore and regretful in the morning.
Manny Ramirez went to the Dodgers, Jason Bay went to the Red Sox, while Andy LaRoche, Bryan Morris, Brandon Moss, and Craig Hansen went to the Pirates. LaRoche gives the Pirates the complete set of LaRoche brothers in the Majors, so that's worth something. I mean, look at how well the Reds did when they had both Boone brothers.
Andy LaRoche was one of the Dodgers best prospects, and every other player obtained is young and more talented than about anyone else in the entire Pirates farm system. So it looks like a competent move to secure the team's future. Painful? Sure. Bay was good. But I think it's something that's been long overdue from the Pirates. Neal Huntington has earned a gold star for his work leading up to the deadline.
Pirates bloggers have mixed opinions.