March 5, 2011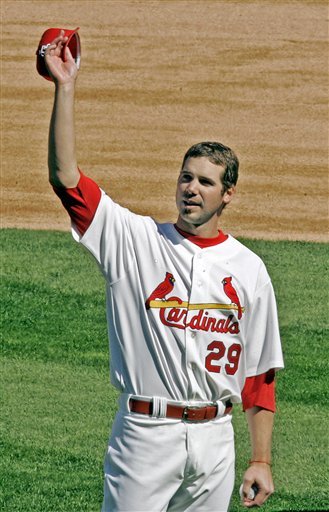 This week, the St. Louis Cardinals and their fans–not too mention Albert Pujols–got a good look of how much on the brink their 2011 season is. They've already lost Adam Wainwright to Tommy John surgery. That places a lot of pressure on Chris Carpenter to somehow pick up the slack, which is why Cardinals fans everywhere felt a great disturbance Tuesday when Carpenter left a game early due to injury.
What's even worse is that later in that same game, Wainwright replacement candidate Mitchell Boggs also left early thanks to an injury.
This weekend, Cardinals fans can relax somewhat. Carpenter threw catch yesterday. "I still feel (the leg injury) a little bit," said Carpenter, "but if it keeps getting better every day like it has, then it will be fine." He suffered a minor strain to his left hamstring that should improve by the start of the season. At 35, his health is a definite concern, though.
As for Boggs, it was his lower back that he hurt, and it is improving, as well. He played catch with Carpenter yesterday, from as far away as 90 feet. "Each day's progression has been really good, what I've expected," he said. "So I would be pretty shocked if within the next week I wasn't ready to go."
There are other injury concerns with the team, too. Third baseman David Freese has yet to play a game and is waiting to test out his surgically repaired ankles. And outfielder Lance Berkman's legs are already starting to bother him, as he was scratched from a start due to calf tightness.
Will this be a snake-bit season for the Cardinals? Maybe, but the Reds still shouldn't discount them. They've been winning a long time, and winning often begets winning, even when the talent doesn't seem to be there.