March 13, 2011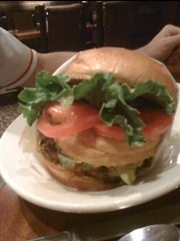 Though this is apparently a chain with as many as 250 locations, I never saw one before I came here last year. And I initially misread it as "Clam Jumper" which brings to mind visages of people jumping on shellfish, or, possibly, dressing them up in little denim dresses.
But we never made it out to check last year, so when the Italian restaurant we were planning to visit turned out to be closed on Sundays and the tavern that handed out nickel pint coupons at the game turned out to be further than we wanted to drive, we headed over.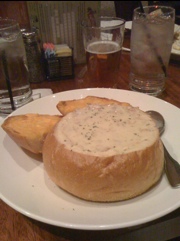 I had the clam chowder in a sourdough bread bowl because I'm feeling under the weather (and because I really wanted clams to be a part of this experience) while Jon had a burger called "the Widowmaker" and we both sampled the beers they brew on site. Our son, who often cannot find sides he enjoys because he doesn't like fries, got his quesadilla with organic corn and frozen red grapes. Weird and cool!
It was a great meal, and we learned that George Foster and Griffey the Elder had been in the night before, so you don't have to take my word for it. Next time you're in the area and looking for some decent food, this is worth a go. Let me know if you brave the 6-layer cake…I'd love to know what it's like.