March 13, 2011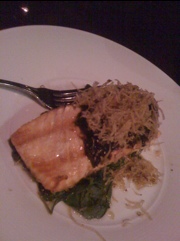 The Compass Restaurant is the rotating restaurant at the top of the Hyatt Regency in downtown Phoenix. Like all rotating restaurants (and I have been in several, since my son developed a fascination with them a few years ago) the view is fabulous. At 24 stories in the midst of all the city skyscrapers, you're looking both up and down at the sights of the city. At night we could see all the lights, but not the mountains. I imagine the view is similarly good during the day.
The food on the other hand…well that's a different story. Neither skillfully prepared nor particularly well designed, it fails to live up to the pretense of the restaurant. Unless you count unusual ingredients as raising the bar. My salmon was served with figs, for example.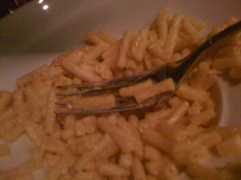 Unfortunately, it was also salty and overcooked. Jon's lamb shank was similarly mediocre. And the real kicker? The mac and cheese my son ordered was OBVIOUSLY from Kraft. I don't mind paying high prices for good food, but $10 for Kraft dinner? You can boil pasta and add your own cheese, you know.
All-in-all, it was an adequate meal that I'm not likely to duplicate. If you go, maybe just try the view with a little wine. They purport their wine selection to be great.