May 9, 2011
If you are a regular reader of Better Off Red, you've already seen that the Crack Technical Staff and I are participating in the Blog Jog.
This will be a special "event within an event" designed for you to meet your fellow online Reds fans, mingle with your favorite Reds bloggers, and most importantly – to have fun!
…
Participants are encouraged to make t-shirts and/or signs to represent their favorite Reds blog(s), wear costumes, crazy outfits, etc.
Even though the theme of the Blog Jog is wacky fun–something I'm entirely in favor of–I'm actually training for this event. I took care of the first step yesterday: buying shoes and a Kevlar sports bra, and tonight I began the actual running.
I haven't run a mile since high school, so I'm starting from scratch using the Couch to 5K training system, modified, of course, since this system calls for a person to train for 8 weeks, but I have only 33 days. Here's the results from my first trip out.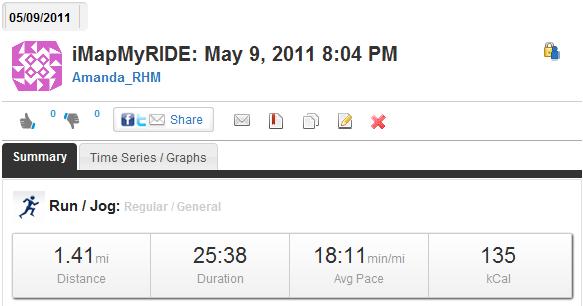 Stay tuned each day to see how the training progresses, and if you would like to join in the fun, log on to http://reds.com/5k to sign up, then email [email protected] to RSVP. You have to pay to be in the run, but you don't have to pay any extra to hang around with the blogging goofballs.