May 14, 2011
Today was a busy day at the Red Hot Household, so this morning my Blog Jog training doubled as a mode of transportation to get me from my son's little league game to my massage appointment. Nothing like a relaxing massage while sweat is still actively coming from your pores.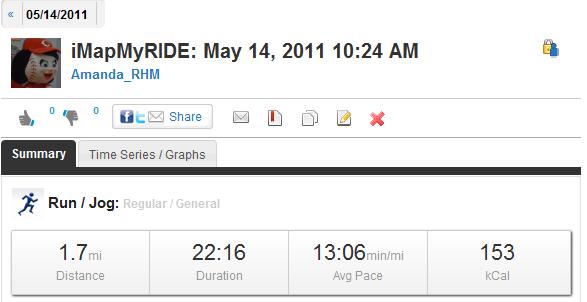 Now we've moved up to the second phase of the Couch-to-5k system. Previously it was 60-seconds of running alternated with 90-seconds of walking. Now we're going for 90-seconds of running and two minutes of walking. Still a far cry from what it's going to take not to embarrass myself in the Blog Jog, but that's why there are 27 days left.
Speaking of the Blog Jog, this is something you can be a part of, too, and walking is perfectly acceptable if you don't want to put yourself through what I'm putting myself through now. If you'd like to join in the fun, log on to http://reds.com/5k to sign up for the Redlegs Run, then email [email protected] to RSVP to the Blog Jog proper. You have to pay to be in the run, but you don't have to pay any extra to hang around with the bloggers.