May 24, 2011
There are days I feel pretty darn good after the night's run. Some night I even think I might like to go again. And then, there are nights like tonight. Thank goodness my one remaining MBA class will require me to skip running tomorrow (and, yes, that's the first time I've ever thought "thank goodness I have to go" for this particular class).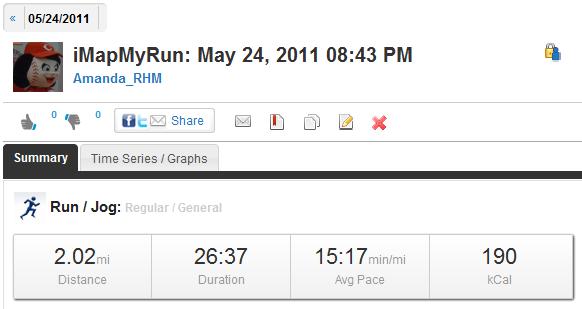 Even if I'm still bitching and moaning come June 11 (in "Cardinal mode" as we call it 'round the Red Hot Household), at least I'll be looking good doing it thanks to our badass team t-shirts that just went on sale yesterday. And now you, too, can join in the fun (at least the non-running parts should be a righteous time) by following three simple steps:
Go to http://reds.com/5k to register for the Redlegs Run.
Email [email protected] to say you'll be at the Blog Jog events before and/or after the run.
You pay to register for the run, but there's no additional charge for hanging with the bloggers. You also have the pay for the shirt, but there's no additional charge unless you look better in it than I do.