May 11, 2011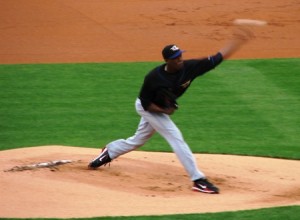 John Fay and Lance McAlister both touched on the Cuban missile crisis that is Aroldis Chapman right now in posts today.
First up, McAlister posted these stats attesting to Chapman's recent innefectiveness.
April 30: K, BB, WP, BB, BB, 2B, K, K
May 5: BB, BB, 1B
May 10: BB, HBP, BB, BB
He's faced 14 batters with 11 getting on base.
He has not retired any of the 7 batters faced in his last two appearances.
He's thrown 69 pitches with only 28 for strikes.
Total: 1.0 inning, 2 H, 8 BB, 3 K, 6 ER, WP, HBP
Clearly, that's not getting it done. I mean, Chapman came in with a 7-0 lead against the Astros and had to be removed because there was a chance he'd blow the game. What's going on? He was so dominant early in the year.
Fay reports that manager Dusty Baker's not worried.
"Chapman struggling some to find the plate," Dusty Baker said. "We've got to find a way to get his mechanics back in the sync. He's throwing the ball great. It's a matter of throwing strikes."

Baker said Chapman will not be sent to minors to get straightened out.
Well, that's an odd response. How can someone who has bad mechanics and isn't throwing strikes be "throwing the ball great"? And what's wrong with sending him to the minors to sort things out. The Reds aren't AAA. It's not a place to teach people.
The bullpen is a bit of a mess right now, with pitchers in roles they don't belong in. Chapman, in particular.
Chapman needs to be pitching every 5th day in the Louisville rotation. He's very uneven still and needs a lot of work at repeating his delivery. Plus, he'd make a much better starter than a reliever.
And speaking of starters, what exactly was Mike Leake doing pitching the 9th inning today? He's a starter with one year of professional baseball on his resume. He's never relieved at this level like that. It would make far more sense for Leake to also be in the minors pitching in the Louisville rotation. Jose Arredondo needs to be activated from the disabled list.
Have him replace Leake and let Leake get back to working on being a more consistent starter. And do the same for Chapman. I don't want the big league club losing games they would have won because of people learning on the job.