May 26, 2011
It was a damp run this evening, more from puddles than from actual rain. And cold. That's weird compared to the heat we've dealt with lately.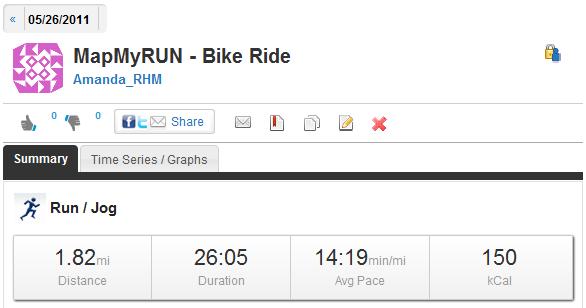 Our pace was down today, but every day we actually run all the way through the planned training it feels like an accomplishment. I do hope that 16 more days will be enough to get me into race-day shape.
Our shirts arrived from Cafe Press today, just two days after we ordered them. We didn't even rush order them. So, if that's any indication, then you've still got plenty of time to get yours. If you haven't already signed up to join in the Redlegs Run fun, here's how you do it:
1. Go to http://reds.com/5k to register for the Redlegs Run.
2. Email [email protected] to say you'll be at the Blog Jog events before and/or after the run.
3. Go to Cafe Press to order your Red Hot shirt, in styles for women or men.
You pay to register for the run, but there's no additional charge for hanging with the bloggers. You also have the pay for the shirt, but there's no additional charge unless you look better in it than I do. But don't worry; I look pretty darn good in this shirt.