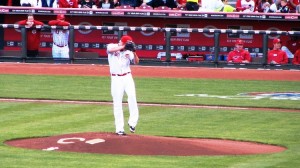 Last Game
The Reds continue to have a chance at the top seed in the National League after beating the Cardinals last night, 3-1. If the Reds win today and the Nationals lose, the Reds can claim the top spot for their own.
Mat Latos started and allowed the Cardinals' 1 run during his brief 5 innings of work. I imagine his outing was so short just because they didn't want to wear him out; he wasn't pitching badly.
The trio of closers–Sean Marshall, Jonathan Broxton, and Aroldis Chapman–finished it out without allowing a run. I love to see them honing that blade.
Next Game
Though the Reds no longer play the very first game of the baseball season, this year they're playing in the very last. Today, Homer Bailey (RHP, 13-10, 3.75 ERA) and the Reds face off against the Cardinals to close out the season at 8:15 p.m., which is no less than 5 minutes later than any other game.
Bailey is just coming off his no-hitter against the Pirates, but he doesn't need to be wasting that kind of performance on the Cardinals today. Save that for the postseason.
Surprise, Surprise: Cueto to Pitch Game 1
Apparently Chris Speier wasn't willing to disclose the team's planned pitching rotation for the post-season while Dusty Baker was still on the mend, but now that Baker's back, we get to find out that it is, indeed, Johnny Cueto that's getting the call for game 1.
After that, it will be Bronson Arroyo, followed by Mat Latos. Homer Bailey is unlikely to pitch in the best-of-5 first round, but he'll be there should one of those other guys find themselves suddenly snake-bitten and in need of long replacement. No one seems to be discussing whether Mike Leake might make the postseason roster anymore.
What to Say to Sound Smart at the Water Cooler
Last night, the Reds won their 97th game. They haven't won that many since 1976 when they swept the World Series. I wouldn't mind seeing that re-run.