October 17, 2012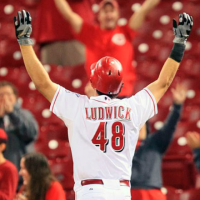 Via Red Reporter, I saw this story on CBS Sports about Cincinnati Reds outfielder Ryan Ludwick declining his $5 million mutual option with the team next season.
Reds outfielder Ryan Ludwick will turn down his $5 million mutual option for 2013, but sources say the Reds will talk about a new deal to keep him in Cincinnati after his big season in 2012.
It's not a big surprise. Ludwick put up some excellent numbers with the Reds, coming to life while Joey Votto was out. He ended the season with a .275 batting average, a .346 ob-base percentage, and a .531 slugging percentage. It was his best year since 2008 when he was an All Star and won a Silver Slugger award.
Ludwick is reportedly interested in returning to the Reds, but will be shopping around his services. It would be nice to have him back as I think he has some slugging left to do, and his skills suit Great American Ball Park nicely.