October 16, 2012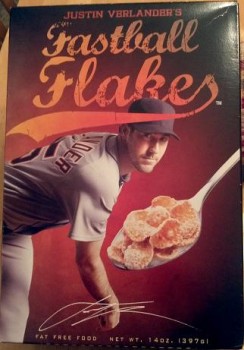 We came across a display of a new product–Justin Verlander's Fastball Flakes–at a Meijer near our house north of Indianapolis. It didn't appear to be selling very well.
That makes sense to me since I've never run across a single Detroit Tigers fan in this part of the state. Lots of Cubs fans, plenty of Reds fans, I even met an Orioles fan the other day, but never a Tigers fan.
I'm not sure why Meijer was stocking so many of these. Maybe they assumed that, since Indiana doesn't have a major league team of its own that Tigers fandom would extend this far south.
Or maybe, since Meijer is a Michigan company, they just decided they wanted to promote the cause of Michigan baseball via tasty breakfast food products.
We picked up a box with vague notions of putting together some sort of cereal deathmatch between it and Vott-Os should the Reds match up against the Tigers in the World Series. Add that to the list of disappointments this year.
We could hold on to the cereal until next year, but I'm afraid the matchup could get kind of stale by then. (Wokka wokka!)
So we're just eating them. I wouldn't call them Grrrrrrrr-eat, but they're pretty good.