October 4, 2012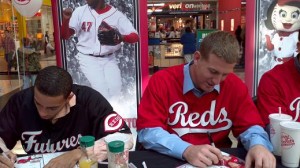 Almost lost in a notebook item written by reds.com reporter Mark Sheldon yesterday was this little bit of news about the fastest man in baseball and top Reds' prospect, Billy Hamilton.
Billy Hamilton is switching positions, going from shortstop to center field.

"There are a lot of reasons," Bill Bavasi, the Reds' vice president of scouting and player development, told MLB.com. "We have [Zack] Cozart. We have Didi [Gregorius]. If you watch Hamilton's style of play, it's a pounding style of play. It would be an easier position for his body to take along with the base stealing. Everything seems to work better."
Notice who wasn't mentioned? Current center fielder Drew Stubbs. The Reds have maintained that Hamilton isn't ready for the majors, and he is likely another year away. But it's very easy to envision him being a September call-up in 2013.
Drew Stubbs has been terrible year this year, which is the worst of his career. He showed such promise after his first full year in 2010, but he's been disappointing in the 2 seasons since. He's shaping up to be another Corey Patterson, and I'm glad to see the Reds making a move to shore up that position for the future.