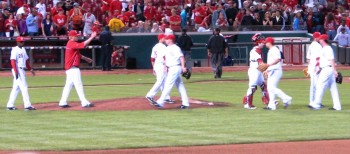 Last Game
It was like spring training baseball all over again last night. Not only was the game just as meaningless as pre-season contests, but also the Reds started off with their varsity players on the field and then pulled them one by one in favor of the JV.
Homer Bailey started for the Reds, but gave up a hit right away, so there was no need to hold out for a possible back-to-back no-hitter. Instead, he was pulled before he even qualified for the win so that some relievers could get some work in.
After seven and a half innings of scoreless baseball, Dusty Baker put in Tony Cingrani. At the time, I wondered whether he was doing it specifically to give up a run and prevent extras. I can't say for sure if that was the case, but it is what happened. The Reds lost to the Cardinals 0-1. Oh no.
Next Game
I can't believe we're already entirely out of regular season games. Weren't we just complaining about Cueto being snubbed for the All Star Game yesterday? Didn't Chapman just do his forward roll? Wasn't Latos's rough start to the season just last week?
For a change, the end of the regular season doesn't mean the end of baseball games for the Reds. They're taking today, tomorrow, and most of Saturday off before taking the field in San Francisco at 9:30 p.m. Johnny Cueto (RHP, 0-0, — ERA) will toe the rubber for the Reds against TBA (probably Matt Cain) for the Giants.
Post-Season Roster to be Announced Friday
The Reds aren't keeping everyone in suspense, but they aren't announcing the final pieces of the first round roster just yet, either. According to John Fay's blog, they've sent home Todd Redmond and Pedro Villarreal and sent Denis Phipps, Henry Rodrigues, and Didi Gregroius to Goodyear to stay fresh and hope/not hope for an injury to a starter.
The remaining 28 guys will head out to San Fran. I don't know if they know who's in or who's out, but we probably won't know until after the workout on Friday. But we can guess: Mike Leake isn't likely to make it, nor is Logan Ondrusek. Devin Mesoraco might be the other one to draw the short straw, but he might not, since without him the team would be down to 2 catchers. Alfredo Simon might be the odd man out instead.
What to Say to Sound Smart at the Water Cooler
The Reds pitching staff logged 1,248 strike outs this season. That's an average of 7.7 Ks per game. What is it they say about pitching and winning championships, again?