October 11, 2012
| Team | 1 | 2 | 3 | 4 | 5 | 6 | 7 | 8 | 9 | R | H | E |
| --- | --- | --- | --- | --- | --- | --- | --- | --- | --- | --- | --- | --- |
| Giants (2-2) | 1 | 2 | 0 | 0 | 2 | 0 | 3 | 0 | 0 | 8 | 11 | 1 |
| Reds (2-2) | 1 | 0 | 1 | 0 | 0 | 1 | 0 | 0 | 0 | 3 | 9 | 0 |
W: Lincecum (1-0) L: Leake (0-1)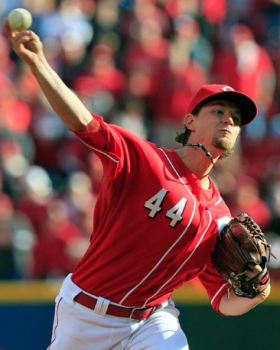 Boy, the playoffs got real ugly, real fast. It seems like only yesterday that the Cincinnati Reds were in the driver's seat of this best-of-five series, holding a 2 games to none lead. And all that without their ace, Johnny Cueto.
The San Francisco Giants are a good team, though. And they've roared back, taking the momentum away from the Reds.
After finally making the hard decision yesterday, the Reds removed Cueto from the roster and activated Mike Leake, hoping he could turn in a good start. He couldn't. The bullpen didn't help matters, and with the offense failing, it was a long, painful game.
Leake pitched 4 1/3 innings, allowing 5 runs on 6 hits and 2 walks, while striking out 1. You knew things weren't looking good when the very first batter he faced hit a home run to give the Giants an early lead. Baker probably left Leake in too long for this one.
The bullpen came in after that, and Sam LeCure put up another 1 2/3 innings of scoreless relief. Then Jose Arredondo allowed 3 runs to make it clear that the Reds weren't going to win. J. J. Hoover and Alfredo Simon kept the Giants off the board after that, but it was too late.
The Reds did have score a few runs, but the offense really failed to drive in runs. The team left 10 runners on base and failed to have a single hit with a runner in scoring position. That is just not good enough.
What could very well be the final game of the year for the Reds is this afternoon. Cincinnati will turn to Mat Latos to see if he has any Giants-killing magic left in his arm. The Giants will counter with their game one starter, Matt Cain.