February 12, 2013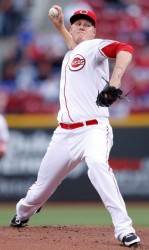 The Cincinnati Reds announced today that they had avoided arbitration with starting pitcher Mat Latos by signing him to a two-year $11.5 million deal.
Latos will receive salaries of $4.25 million this year and $7.25 million in 2014 under Tuesday's deal.
The deal buys out all but one of Latos' arbitration-eligible years. He is now due to face arbitration once more before the 2015 season, the final one before he hits free agency.
I'm excited about the deal. It follows the signing of Shin-Soo Choo yesterday and leaves only Homer Bailey in need of a contract. We'll see if the Reds can get a multi-year deal for Bailey, too.