February 12, 2013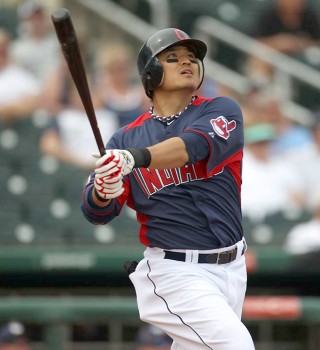 The Cincinnati Reds' new lead-off hitter, Shin-Soo Choo, has agreed to a one-year deal with the team, avoiding arbitration.
Choo filed for $8 million. The Reds countered at $6.75 million.
They both settled in the middle at $7,375,000. Starters Mat Latos and Homer Bailey are the two remaining arbitration-eligible players.
As for Choo, he will definitely be an upgrade in the top spot of the lineup. But since this is a Dusty Baker team that follows Dusty's Rules, that lead-off person has to play center field. Choo is a right fielder, though, who hasn't played center field in more than a handful of major league games. There's been a lot of speculation about how he'll fare, but no interviews with the player himself.
Yesterday, Enquirer reporter John Fay finally had the chance to ask Choo some questions.
Shin-Soo Choo admits moving to center field is a process.

"I'm not comfortable there yet," he said. "At the major league level, I played 99 percent of my games in right field. I'll try. I'll work on it this spring training. We'll see how they're thinking. If they're not (happy), somebody else will be playing in center field.

"I'll try the best I can."
I'm glad to hear he's amenable to the move. Up to this point, the switch to center had been talked about without his opinion. There could've been resistance from him.
Hopefully, he'll be good enough. He's unlikely to be as good as Drew Stubbs was defensively, but even slightly below average defense won't make Choo's excellent bat a downgrade overall.