May 22, 2008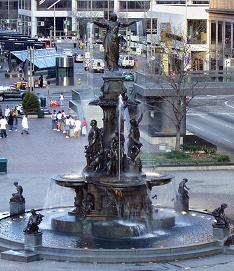 It was the event that was made for me!
What do you get when you combine the hottest home games of the Cincinnati Reds season with the hottest place to be in Downtown Cincinnati? Reds Hot Weekends!
The Cincinnati Reds and Fountain Square Management are teaming up to create seven "Reds Hot Weekend" celebrations from May to September, offering local fans and out-of-town guests some free entertainment and a warm welcome to Fountain Square and the heart of our city.
Local Reds fans and visitors in town for the games can meet, mingle and gear up for the series before heading down to the ballpark for the 7:10 p.m. games on Friday and Saturday. On Sunday afternoon, stop by Fountain Square on your way home for free ice cream from UDF and meet the Reds Rally Girls and Gapper.
2008 Reds Hot Weekends:
May 16-18 vs. Cleveland
May 30-June 1 vs. Atlanta
June 13-15 vs. Boston
July 18-20 vs. New York Mets
July 25-27 vs. Colorado
August 15-17 vs. St. Louis
September 5-7 vs. Chicago Cubs