July 8, 2008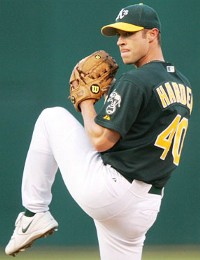 A day after the Brewers traded for ace C.C. Sabathia, the Cubs made their own move. And for once, it doesn't look like GM Jim Hendry screwed things up.
A's starter Rich Harden, he of the 5-1 record with a 2.34 ERA, is now a Cub. And all Chicago had to give up was mostly players they didn't want anyway.
Going to the A's are Matt Murton, Sean Gallagher, Eric Patterson, and Josh Donaldson. Murton had bobbed up and down the last couple of years, and despite his great head of red hair, he really hadn't done anything to prove he belonged in the big leagues. Getting rid of Gallagher removes the logjam of Seans that the club's had a problem with. Patterson is Corey's brother, so you know he can't have much more than suck in his DNA. And Donaldson is a minor leaguer.
Coming to the Cubs along with Harden is reliever Chad Gaudin, who's been average throughout his career.
While he's no Wayne Krivsky, Hendry's made his fair share of bad trades. Steve Trachsel and Juan Pierre immediately come to mind. However, he's balanced that with his trades for Aramis Ramirez and Derrek Lee, although anyone could have fleeced David Littlefield out of Ramirez. Still, this one seems to fall closer into that latter category.
It took Hendry until the midway point of the season, but he finally fixed the rotation. We'll have to see if he did it in enough time.