July 8, 2008
The red-hot family made it out to Cincinnati this weekend to take in a Reds Heads event and a game at the ballpark. Jay Bruce was signing autographs for the kids in the Reds Hall of Fame and Museum. Bruce was nice, but our son didn't have much to say. He must have been nervous; he usually never shuts up (he got that from me).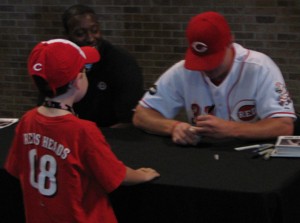 And since they required the CTS and I to each buy a year-long pass to go through the doors with our 7-year old, we now can have our run of the place. And it's only a scant 150 miles away!
The Reds were playing the Nationals that evening.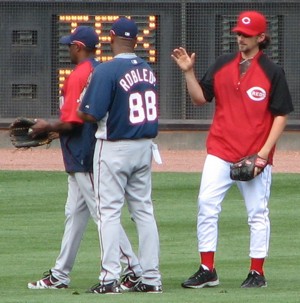 So, of course, the Magic Man was hanging with his homeys. It must be nice to chill with teammates who didn't file a grievance over receiving you.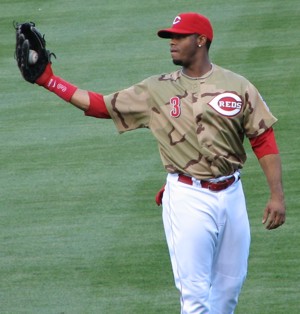 The first 30,000 adults through the doors got a free mesh Griffey jersey in the camo colors. How the outfielders could see each other is beyond me. In Griffey's case, at least you didn't have to worry about him straying too far from right field.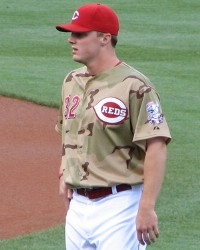 Bruce survived the autograph session to suit up for the game. Like most of the offense, Bruce wasn't doing much. He was 0-for-5 on the night in one of the most boring games in history. It was tough to get to the end of the sixth inning when they played our Love Your Reds video. Of course, it got more interesting after that, but we had to bail anyway to get home at a reasonable hour. Even so, we didn't roll in until 1:30 a.m.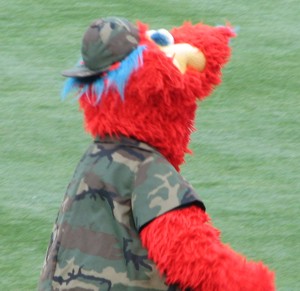 Gapper was in attendance to liven up the scene, in full camo as well. If you're familiar with the antics of the Gapper, you know that occasionally he'll show up with no shirt on but instead wearing tighty whiteys. I guess it's supposed to be scandalously funny for the kids, but since most of the time he doesn't wear any variety of clothing at all from the waist down, it actually more decent to don the jockeys.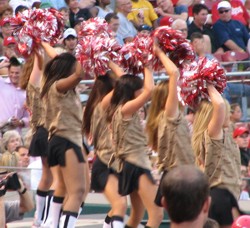 The CTS was taking the photos. Can you tell?