May 11, 2009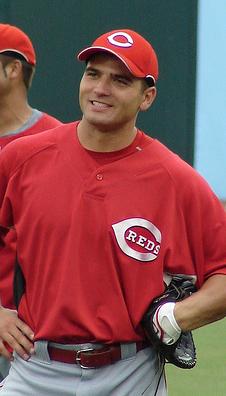 It's finally here!
The day when I can happily say that classes are over (1 A, 2B+s, and a P, FYI), and I can return my attention to where it belongs: baseball. Of course this would be the night that I'd have to bring work home and I wouldn't find myself with time to write anything until 11:30 p.m., with the CTS already annoyingly asleep and the WordPress image-uploading functionality refusing to provide me a proper error message to say why it wouldn't allow me to share the beautiful photo that I found on Flickr.
But I finally got the eye candy in place, and the game's only in the 6th inning anyway, so what the hell. Who needs sleep?
I wanted to invest the time tonight to compare Joey Votto's career today with Albert Pujol's career back when he was 25 (13 years ago), but I haven't gotten any further than the "Similarity Scores" section on baseball-reference.com. The only name I recognize is "Sean Casey" under the "Similar Batters through 24" heading, which is a pretty favorable comparison, especially if you consider Casey only through age 24.
Perhaps tomorrow I'll finish the research. In the meantime, we can all enjoy gazing at the Flickr photo. *So* much better than going to class.