July 22, 2009
Staying up late tonight to catch, at least part of, the Reds game in Los Angeles. I was surprised to hear Chris and George talking about Bronson Arroyo being on a hot streak because apparently I've missed his last two starts. And also apparently, I'm the bad luck charm because he promptly gave up the Reds first-inning lead.
During an earlier game in this series, someone was talking about Baker coming back to California to show off his shiny new team, but with its performance turning up a little tarnished, how he'd be glad to be moving on to Chicago. I agree: at least he didn't have a rep of being a winning pitcher in Chi-town to live up to.
The Reds are hosting a Ladies' Night on Wednesday, July 29. In addition to half-price tickets, ladies are going to receive "product samples." My first thought was, "Wednesday? Why the hell is Ladies' Night on a Wednesday?" Then I remembered that the Dodgers' Broadcast for Girls was also scheduled for Wednesdays. So, either some research has shown that women are available for baseball in the middle of the week, or baseball teams are so desperate to get viewers on hump day that they'll even resort to appealing to women.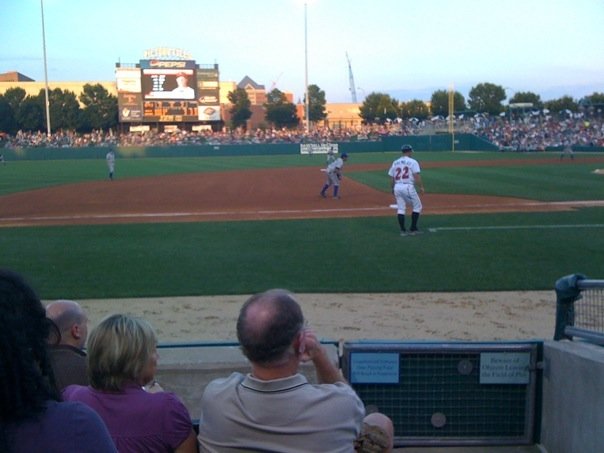 My company had an outing at Victory Field in Indianapolis on Monday night, and I was surprised to see Little Ray Ray Olmedo playing third base for the Durham Bulls. My iPhone doesn't take the best sports action shots–what with its lack of zoom or focus and the fact that I had to have the back of the head of someone in the stands in the shot in order for the lighting to be right–but I was so glad to see Olmedo that I just wanted to share anyway.
I was watching the MLB channel while I was waiting for this atypically late game to start. Man, Sean Casey has slimmed down. I think he actually looks younger and trimmer now than he did when he was playing. He's more articulate, too (which I realize he didn't really have anywhere to go but up). I guess the color role suits him.
A cheap, $20 printed-on-style jersey with Casey's name on it was my first Reds-player-specific shirt. Though it was a crappy rip-off, it was certainly a lot more comfortable than those polyester things that cost $210 a pop. Since then I've added on a Kearns t-shirt that was on super-sale for some reason at the park once (seriously super: $5 I think), and a Freel t-shirt whose autographing I chronicled early on in the life of Red Hot Mama. I haven't added on for a long time since then, but with my newfound love of Votto, I think it's time to add him to the collection.
I think that's enough of my stream of consciousness for now. I need to turn my attention to my Twitter feed, where I can see my last couple posts were fairly embarrassing, even though they seemed hilarious when I wrote them, three beers in to the evening. That's pretty much the way that always goes, I think.