August 3, 2009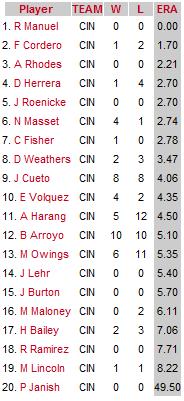 Before the Aaron Harang took the mound against the Cubs tonight, Thom Brennaman was heard to say on the pre-game show that this game is a "must-win" for the Reds. This got me to thinking: do the Reds need to win tonight's game? It's only the grace of the Pirates' loss last night that the Reds are tied for fifth instead of in sole possession of dead last.
At 11 games back, it's a little hard to imagine this game being of particular importance to the Reds as a team. To individual managers, sure, but not to the team as a whole.
At just half a game back and in second place, this game could be pretty darn important to the Cubs. That got me wondering whether the Reds shouldn't go easy on the baby bears tonight. But no. That way madness lies.
On our way home from a particularly long weekend road trip yesterday, the Crack Technical Staff and I were talking about who should be to blame. One idea stuck with me, and I couldn't shake it: why didn't the change in ownership fix things? All those years of telling ourselves that if only the team had an owner that knew the game, that would invest a little, the team could win.
Along comes Bob Castellini and the current ownership group, and things did immediately improve. But as we chatted, we realized that "things" hadn't improved, "marketing" had. The team harvested a lot of low-hanging fruit in packaging up shitty tix with opening day ones and bringing the Reds Caravan into Indianapolis, giving the illusion of a well-run team.
The one person they did invest in, Dusty Baker, might even have been a marketing decision. They hired him so quickly they couldn't have actually interviewed a full panel of candidates, and my experience is that average fans–the kind who check out an occasional box score but don't actually tune in for games–love him. "In Dusty We Trusty."
And there's been no talk of his job being on the line, despite the performance of the team, which really makes me wonder about the motivations of the management. At some point, though, I hope they'll realize that "Muncie, Indiana Day" at the ballpark will convince some to come out, but a winning team is what will really put butts in the seats.
But they're pretty far from that right now. Even the pitching staff that people are quick to defend is only good in comparison to the offense and to previous years: not to other teams'. League average runs allowed: 4.20. Reds' average runs allowed: 4.48.
Admittedly, that number is influenced by the defense, too, but so what? Isn't that the whole damn reason Alex Gonzales is on the roster?
So, regardless of whether this game actually is a "must win" for Cincinnati tonight, as they're down 3-0 in the top of the sixth, it's certainly not a "likely win."