September 14, 2009
The Reds' loss to the Cubs yesterday officially eliminated the Reds from being able to win the National League Central. Not that the rest of the division is faring much better, by-and-large. The Cards have a 9.5 game lead over the Cubs.
Honestly, doesn't it get a bit boring being a Cardinals fan after a while? Oh, yeah, we already know it does, evidenced by the fact that 75% of their team blogs closed up after their last WS win.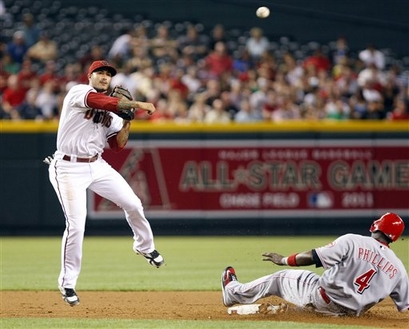 The Reds' magic number for wildcard elimination is 2. The Reds didn't do anything to reduce that tonight, though the Rockies might, as they go up against the Giants.
In other news, Brandon Phillips just hit home run number 20 of the season, making him a 20-20-20 man. That's 20 homers, 20 stolen bases, and 20 doubles. How they decided on that combination of stats, I don't know. If they chose stolen bases, walks, and ERA instead, Paul Janish would be on the list.