August 9, 2010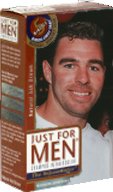 When I first heard about the Reds trading Chris Dickerson to Milwaukee, straight up, for Jim Edmonds, I was pretty upset. Actually, I bit the head off a baby seal in my rage. But after watching a few innings of Edmonds' stellar performance (not to mention the team's improvement thanks to his veteran leadership), I've got better perspective and I'm completely sold on the deal. Here's why:
The Reds have had so much excellent defense this season, and it's clearly been holding the team back. If they want to ascend to that next level, they need the albatross of a 40-year old center fielder around their neck. He'll be like those ankle weights that middle-aged women wear while power-walking: counteracting him will make them stronger.
Furthermore, the intra-team competition between Drew Stubbs and Chris Heisey was causing internal strife. The production these two young guys were putting together thanks to their struggle was well-outweighed by the damage it was doing to their friendship. Far better to take the responsibility off both of them and give it to someone older and wiser, who knows how to handle the pressure. Pressure made all the heavier the fact that he didn't earn the responsibility.
And anyway, the net present value of Chris Dickerson is far less than the value brought to the team in one year by Edmonds. He was the best, most logical player they could get for him. The Reds had a surplus of outfielders: it only made sense for them to deal one of them. And once they did, well, then they were down an outfielder, so it only made sense for them to bring one aboard.
But the most important thing that swayed my opinion was the FSOhio text poll–where the kind of insightful fans who call in to sports radio and wear "In Dusty We Trusty" shirts show off their technological prowess by dialing six whole numbers–showed that the majority of fans are in favor of the move. I mean, how can 3,000 cell phone users be wrong?