February 14, 2013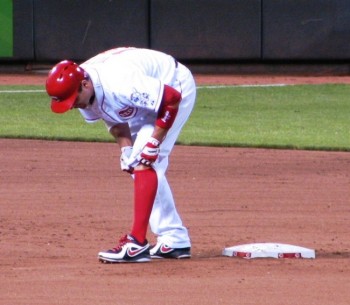 Thanks to a solid roster and upgrades during the offseason, the Cincinnati Reds don't have many story lines to follow during Spring Training. But there is one that, if you're like me, you've been wondering about: the status of Joey Votto's knee.
Votto missed a lot of time from it after the All Star break last year, and when he returned, his power was gone. Unfortunately, he wasn't one of the early arrivals to camp, so no reporter has been able to interview him. However, team doctor Timothy Kremchek has checked out Votto, and Kremchek is at camp already.
John Fay of the Cincinnati Enquirer cornered Kremchek to ask what every fan wants to know.
Medical director Dr. Tim Kremchek visited Votto in Florida two weeks ago and reports that Votto's surgically repaired left knee is fine.

"He's doing well," Kremchek said. "He looks great."
That's an encouraging note. We won't really know until games start and Votto hits his first home run. The team needs a healthy Votto this year.