April 2, 2007
The Reds started the season off right this afternoon with a 5-1 win over the Cubs.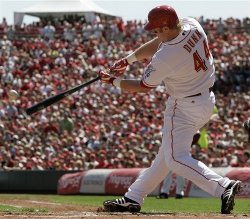 This Opening Day game seemed familiar to Reds fans, who so clearly remember the 16-7 drubbing they took at the hands of the Cubs on Opening Day 2006. And just like last year, the two characters who are the stories of the game are Adam Dunn and Aaron Harang.
But instead of Harang looking like a deer in the laser-bright headlights of Cincinnati Opening Day and giving up nine runs in five innings, we saw a composed master of his trade allowing just one run (zero earned) on six hits through seven innings. That's the kind of confidence that being the previous year's wins and strike-outs leader will give you. Or perhaps that beautiful white uni reflected the light off him. Either way.
And instead of one scored error and two more actual errors from Dunn, we got the slim, toned two home runs and walk-out-of-threat-of-a-third that you want out of your major slugger. He was 2-for-4 with three RBI and two runs scored thanks to those homers. He's on pace for 324 for the year, you know.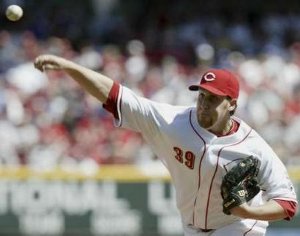 Ryan Freel turned over a new leaf as well: he actually backed off a play in the first inning. In fact, I blame that lack of dive in center field for his failed attempt to take second base in the third inning. I think he couldn't stand to be clean any longer, and was going to do whatever it took to get a slide in during that trip 'round the bases.
Scott Hatteberg got an RBI for walking with the bases loaded in the fifth inning, and Alex Gonzalez got the last one with a sacrifice fly.
The win brings the Reds' record to 1-0. They take tomorrow to enjoy what they've done (not too much celebrating, please fellas!) before Bronson Arroyo takes on Ted Lilly at 7:10 on Wednesday.
P.S. - Check out what our Cubs counterparts have to say at The View from the Bleachers.