April 29, 2007
The Reds came from behind abruptly this afternoon to win the game and the series with the Pirates. I got all grumpy watching the beginning of the game, and then I was in-and-out for the rest of it, so looking back on the day, I still feel sort of crabby about the whole thing, despite the score.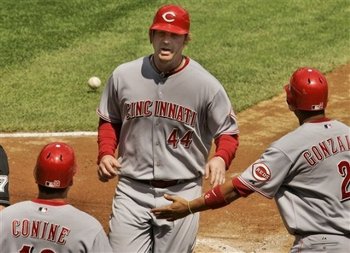 I suppose that it would be unreasonable of me to demand that the Reds get the lead from the first inning in every game. But what if I ask nicely?
Aaron Harang followed up on Matt Belisle's complete game yesterday with 8 innings of his own. He was shaky at first but pulled it together in the long run. He allowed five runs (earned) on 10 hits through eight plus innings. He walked one and struck out 9.
David Weathers was the only member of the bullpen not to get the second consecutive night off, finishing off the ninth inning. It was hardly a save situation, but it was nice for Stormy to put up a 0. Tomorrow is an off day for the boys, so the relievers ought to be good and relaxed going into Houston on Tuesday.
There was no need for pinch hitting in this affair where the offense actually made an appearance for a change. Adam Dunn and Alex Gonzalez each contributed a home run for three of the Reds' runs. Brandon Phillips brought in a couple runs, as did Harang. But the offensive star today was Edwin Encarnación who went 3-for-4 with three RBI and a run scored.
The win brings the Reds record to 12-13 and ties them with the Pirates for second place in the division after the Brewers. They take tomorrow to travel to Houston before facing off against the Astros. Bronson Arroyo goes against guy-I've-never-heard-of Matt Albers. Could be a tough one.