April 4, 2007
The Reds hot streak was sapped by the cold streak tonight when they dropped the second game of the season to the Cubs, 1-4.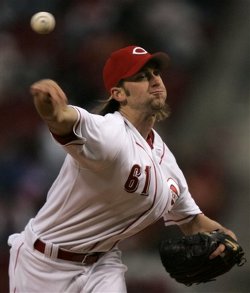 Bronson Arroyo pitched seven innings, and was excellent for about three of them. Other than getting himself into trouble in the fourth and allowing two runs on a botched defensive play and running out of gas at the end of his tenure, Arroyo was adequate. He would end up allowing four runs (earned) on eight hits.
After Arroyo, Mike Stanton got an out, and it only took him one walk to get it. Todd Coffey finished out the eighth, and allowed a hit but no runs. Jared Burton was crummy in his major league debut, walking three on his path to one out. Victor Santos put in a strong performance to finish out the ninth.
Ryan Freel scored the Reds' one run on a hit to the wall by Adam Dunn. Like several Reds' hits tonight, it looked like it should have been out of the park, but nothing was carrying this evening. This offense could be quite scary come the middle of May, but till then, Dunn, Ken Griffey Jr., and Arroyo were the only ones to notch hits against Ted Lilly.
The loss brings the Reds' record to 1-1. Tomorrow, the Reds send Kyle Lohse into battle against Jason Marquis at 12:35 p.m. I'm liking Lohse's chances.
For the Cubs perspective, see View from the Bleachers.